Notice on Mass in June
Sunday Mass will be resumed from June 6th(Sat) 6:00pm, June 7th(Sun) 8:30am, 10:00am and 6:00pm.
English Mass and Vietnamese Mass will not be held for the time being.
There are four Sunday masses, one on Saturday and three on Sunday. I would like to ask all of you to participate in these four masses in a distributed manner.
Masses are available at 7:00 and 10:00 on date below. Participation of these masses is also recommended.

June 1st(Mon)
June 5th(Fri)
June 19th(Fri)
June 24th(Wed)
June 29th(Mon)

The space between the seats was widened and we added a mark to seat up to 3 people per seat. There will be a total of 72 seats.
The windows and doors are open for ventilation.
Please wear a face mask when attending a mass, and make hands sanitize available at entrance when entering or leaving the chapel.
If you have a fever, please refrain from attending.
If you are concerned about your health, such as the elderly, please do not overdo it.
Do not use Communion by mouth.
We do not sing hymns to save time and prevent splashes.
We may change the way masses are carried out depending on the future situation. In this situation, the manner of our faith life calls for new styles. We would like to overcome this tough situation with our prayers and preventing infection.
Sunday school will be closed in June. We will contact you again for the First Eucharist class.
Notice of change of priest in charge
From May 1, the priests of the Catholic Kanazawa Church will change as follows
Chief Priest

Fr. Kunori Akira

Assistant Priest

Fr. Cipriano Bontacchio

Cooperating priest

Fr. Pietro Zanchetta
For Canonization and Beatification of JUSTO TAKAYAMA UKON
The Beatification of JUSTO TAKAYAMA UKON held at noon on Tuesday, February 7th, 2017 in Osaka-Jo Hall. Please look at the web page for details "Catholic Bishops' Conference of Japan".
And also, a mass celebrating the Beatification of JUSTO TAKAYAMA UKON held on Thursday, February 9th, 2017 at Kanazawa Catholic Church. The mass presided over by Prefect of Congregation for Causes of Saints, Cardinal Angelo Amato on behalf of Pope Francis.
The Peace of the Lord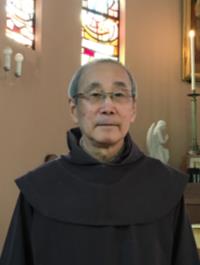 On August 15th we celebrate the end of Pacific War. As you know, from December 8th, 1941 Japan attacked Pearl Harbor, until August 15th, 1945 Japan fought against USA, Great Britain, Holland, Australia and China for almost four years. Over than 3 million people including civilians were sacrificed in this war. We have not known the exact numbers of victims in Asian countries involved in this war yet.
Catholic Church in Japan mourn for all victims for 10 days from August 6th to 15th every year and pray heartily that the world peace without war will be realized.
By the way, we are exchanging greetings of peace in a Mass each other saying "Peace be with you, Peace be with you". In Japan we greet each other only with a slight bow. But in foreign countries they usually shake hands or hug each other. In this case we can perceive each other's body temperature by touching skin. Although we cannot necessarily say which one is a better way of greeting of peace, many foreigners might be not satisfied in a Mass in Japan.
Anyway, do we really realize the deep meaning of the greeting of peace? When the disciples who locked themselves up for fear of the Jews, Jesus stood in the midst and said them, "Peace be with you" twice. Then he breathed on them and entrusted the mission to forgive sins of the people saying "receive the Holy Spirit" (Jn20:19-23). Couldn't we say this mission is none other than the mission to bring the Peace of the Lord as genuine peace to the people? We all are invited both privately and publicly to live the Peace of the Lord in our life.
Christ has made peace between Jews and Gentiles, and he has united us by breaking down the wall of the hatred that separated us. (Eph2:14)
Pastor Fr. Paul A. Kunori o.c.d.
You can read past messages in here.