Christmas Mass in 2020 and New Year Mass in 2021
There's no Christmas Mass in the Holy Spirit Convent this year due to the renovation works.
December 24 (Thu) 18:00, 20:00, 24:00
December 25 (Fri) 10:00, 18:00
December 27 (Sun) 15:00 (in English)


January 1 (Fri) 0:00, 11:00, 18:00
Notice
Christmas Mass at 18:00 on 24, which is held for the first time this year, is recommendable for kids and elderly people.
Please cooperate in prevention against the corona virus: put on your mask, check your temperature and disinfect your hands before the mass, and disinfect again your hands before the Communion.
Be seated on the bench taking a distance enough from the next person to you. Up to four persons can be seated on each bench.
If you come by car please safely wait in line for your turn, for the parking space is limited.
Notice on Mass in June
Sunday Mass will be resumed from June 6th(Sat) 6:00pm, June 7th(Sun) 8:30am, 10:00am and 6:00pm.
English Mass and Vietnamese Mass will not be held for the time being.
There are four Sunday masses, one on Saturday and three on Sunday. I would like to ask all of you to participate in these four masses in a distributed manner.
Masses are available at 7:00 and 10:00 on date below. Participation of these masses is also recommended.

June 1st(Mon)
June 5th(Fri)
June 19th(Fri)
June 24th(Wed)
June 29th(Mon)

The space between the seats was widened and we added a mark to seat up to 3 people per seat. There will be a total of 72 seats.
The windows and doors are open for ventilation.
Please wear a face mask when attending a mass, and make hands sanitize available at entrance when entering or leaving the chapel.
If you have a fever, please refrain from attending.
If you are concerned about your health, such as the elderly, please do not overdo it.
Do not use Communion by mouth.
We do not sing hymns to save time and prevent splashes.
We may change the way masses are carried out depending on the future situation. In this situation, the manner of our faith life calls for new styles. We would like to overcome this tough situation with our prayers and preventing infection.
Sunday school will be closed in June. We will contact you again for the First Eucharist class.
Notice of change of priest in charge
From May 1, the priests of the Catholic Kanazawa Church will change as follows
Chief Priest

Fr. Kunori Akira

Assistant Priest

Fr. Cipriano Bontacchio

Cooperating priest

Fr. Pietro Zanchetta
For Canonization and Beatification of JUSTO TAKAYAMA UKON
The Beatification of JUSTO TAKAYAMA UKON held at noon on Tuesday, February 7th, 2017 in Osaka-Jo Hall. Please look at the web page for details "Catholic Bishops' Conference of Japan".
And also, a mass celebrating the Beatification of JUSTO TAKAYAMA UKON held on Thursday, February 9th, 2017 at Kanazawa Catholic Church. The mass presided over by Prefect of Congregation for Causes of Saints, Cardinal Angelo Amato on behalf of Pope Francis.
What does the Pandemic indicate us?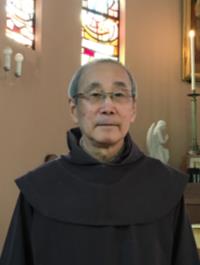 Cardinal Michael Czerny summarizes very briefly and accurately the message of Pope Francis's "Life after the Pandemic" in its introduction. Even if you read it, you will be able to learn a lot of things from it.
It is now official issues to have doubts about present industrial system, change it, take care of the unofficial workers and support the people attending the old and sick. … Thanks to COVID-19 we realize now everything cooperates and relates each other. Everybody is threatened by economic gap, global warming and no policy of the government. We should understand the change will make a great influence on the present paradigm and system which involve the whole world in a danger.
(Translation from the Japanese text)
"The unofficial workers" means the people who don't work on the stage of our society but support it in the base of the society. For example, merchants of street stalls, rubbish collectors, acting troupes, tenant farmers, and day laborers. "The paradigm and system which involve the whole world in a danger" means a whole structure of mankind which have brought competitions and wars in all levels of politics, economics and culture. Pope Francis appeals:
I hope this crisis will be a chance for us to recover our own life in our hands, awake our conscience from sleeping, and make human and ecological conversion from mammonism to the world which truly respects human life and dignity. Our culture is in a severe ompetition and selfish individualism and driven by the excessive production and consumption. But only a handful of the people is enjoying unreasonable benefits and luxuries. We have to reconsider and renew this culture now.
Pastor Fr. Paul A. Kunori o.c.d.
You can read past messages in here.