Notice on Mass in June
Sunday Mass will be resumed from June 6th(Sat) 6:00pm, June 7th(Sun) 8:30am, 10:00am and 6:00pm.
English Mass and Vietnamese Mass will not be held for the time being.
There are four Sunday masses, one on Saturday and three on Sunday. I would like to ask all of you to participate in these four masses in a distributed manner.
Masses are available at 7:00 and 10:00 on date below. Participation of these masses is also recommended.

June 1st(Mon)
June 5th(Fri)
June 19th(Fri)
June 24th(Wed)
June 29th(Mon)

The space between the seats was widened and we added a mark to seat up to 3 people per seat. There will be a total of 72 seats.
The windows and doors are open for ventilation.
Please wear a face mask when attending a mass, and make hands sanitize available at entrance when entering or leaving the chapel.
If you have a fever, please refrain from attending.
If you are concerned about your health, such as the elderly, please do not overdo it.
Do not use Communion by mouth.
We do not sing hymns to save time and prevent splashes.
We may change the way masses are carried out depending on the future situation. In this situation, the manner of our faith life calls for new styles. We would like to overcome this tough situation with our prayers and preventing infection.
Sunday school will be closed in June. We will contact you again for the First Eucharist class.
Notice of change of priest in charge
From May 1, the priests of the Catholic Kanazawa Church will change as follows
Chief Priest

Fr. Kunori Akira

Assistant Priest

Fr. Cipriano Bontacchio

Cooperating priest

Fr. Pietro Zanchetta
For Canonization and Beatification of JUSTO TAKAYAMA UKON
The Beatification of JUSTO TAKAYAMA UKON held at noon on Tuesday, February 7th, 2017 in Osaka-Jo Hall. Please look at the web page for details "Catholic Bishops' Conference of Japan".
And also, a mass celebrating the Beatification of JUSTO TAKAYAMA UKON held on Thursday, February 9th, 2017 at Kanazawa Catholic Church. The mass presided over by Prefect of Congregation for Causes of Saints, Cardinal Angelo Amato on behalf of Pope Francis.
Change of Pastor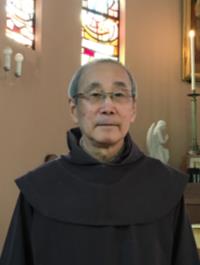 Dear brothers and sisters,
from 1st May I, Fr. Paul Kunori, have taken charge of the pastorship of Kanazawa Catholic Church instead of Fr. Cipriano Bontacchio who has devoted himself to our church for long time diligently.
However, I came to Kanazawa on 2nd May last year. Only one year have passed. As an assistant Pastor I have been in charge of Sunday School and Boy Scouts. Once a week I visited the sick who cannot come to our church. I celebrated a mass on weekdays and on Sundays. But I did not attend the steering committee, the mission and pastoral council, and other various conferences, so that I do not know the circumstances of our church well.
Before I came here, I had been busy in directing a retreat as Carmelite Father for the Carmelite Nuns and Secular Carmelites, or for other Congregations and the faithful.
That's why I am unaccustomed to the office of Pastor. Therefore I need the assistance of Fr. Cipriano and your kind and generous collaboration.
Let's walk together following our Lord Jesus Christ in His Love,
Pastor Fr. Paul A. Kunori o.c.d.
You can read past messages in here.